Kulturklubben w. UNNI, Elin Beckman & Vitamin D + Student Card Launch
16 december 22:00
Moriska Paviljongen invites Kulturklubben – a club concept that strives to combine electronic underground music with other cultural elements such as arts, fashion and visual production.
Welcome to a housy, loungy, bassy launch party with Kulturklubben in Moriskans Bistro! Mingle, enjoy special drinks and shake your hips to good house and disco.
MORISKAN STUDENT CARD
This night we're launching the must-have MORISKAN STUDENT CARD, that offers 20% student discount at the door for a whole year (!) And the best part is: you get it for free! To sign up, see details below.
Also: An exclusive raffle by our friends Naïtre Clothing! Don't miss it!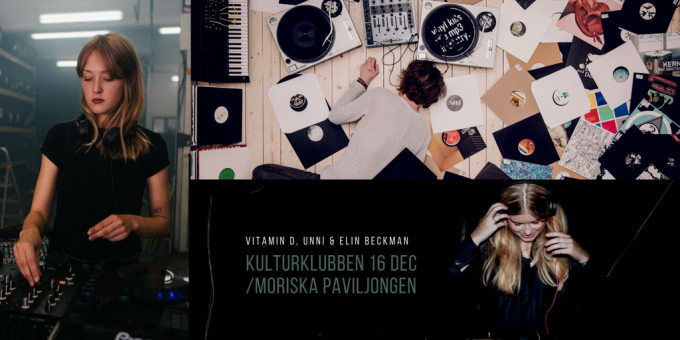 UNNI
UNNI will give you disco mixed up with house that makes it real hard for you to stay still!
VITAMIN D (H.H.A.S / Honey Butter Records)
House-lover & co-founder of H.H.A.S & record label Honey Butter Records. Dusty samples & exciting rhythms are to be expected!
ELIN BECKMAN (Kulturklubben)
One of the producers and resident-DJs of Kulturklubben. She'll provide you with flirty disco tunes and some organic jungle-drummy-house!
**HOW TO GET THE MORISKAN STUDENT CARD**
1. Follow Moriska Paviljongen on Facebook.
2. Register your email here: http://bit.ly/2n903hR to sign up!
3. Show up on the 16th of December, show ID + Studentkortet/Mecenat
4. Pick up your card at the door and enjoy a 20% discount on the entry fee for a whole year!
Please note that the card is for students and can only be picked up at the door.