INSTÄLLT – Wednesday Night Hop
08 april 19.45
Welcome to Cats' Corners swingin' Wednesday Night Hop at Moriska Paviljongen. The swingin social dance in Morsikans grand ballroom starts at 7.45 pm!
Taster TBA
– Social dance: 19.45-23.00
– Bistro bar is open: 17.30-01.00
(Members of Cats' Corner has a 10% discount in the Bistro bar.)
– Kitchen closes: 22.00 (http://moriskapaviljongen.se/moriskans-bistro)
– Ballroom door fee: 70kr, 50kr for Cats' Corner members
### LINDY HOP
The main dance on Wednesdays' is Lindy Hop, a swing dance originating in the 30-40s in Harlem, NY. But you are always welcome to dance whatever you like or just hang out
www.youtube.com/results?search_query=lindy+hop
https://en.wikipedia.org/wiki/Lindy_Hop
### CATS' CORNER
Cats' Corner is a non-profit dance organisation from Malmö. Our main focus is Lindy Hop, but we gladly also dance Charleston, Balboa, Shag, Blues, Authentic Jazz and other Swing dances.
www.catscorner.se/
(http://www.heptown.com/organizer/cats-corner/)
### JAZZ IN THE BISTRO
As the dance closes for the night we "wind down" in the Bistro where there is a live jazz club every Wednesday.
http://www.moriskapaviljongen.se/
### SWING CLASSES?
This is also the new home for some of HepTowns weekly classes: Take a look at
www.heptown.com/classes/schedule/
BEGINNERS WEEKENDS
There will be beginners weekends before the ordinary classes start. Registration will open in December and more information will be available before that at
www.heptown.com/classes/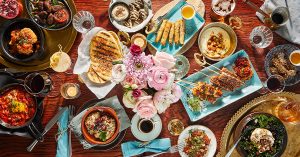 Moriskans Bistro
Ät middag innan dansen!
Köket är öppet från kl. 17.00 – 22 ons – lör.
AW på fredagar 17-19
Boka bord via:❖ www.moriskansbistro.se☏
040-685 40 35
Välkomna!